We cannot simply eliminate the top-down approach of construction scheduling, as we need to have targets to structure the execution and define the key milestones. However, construction planning should involve defining a realistic flow of work, and not just the sequence of activities. Planners must work with the site teams to understand critical site context that will help account for potential constraints and challenges that will hinder the flow of work.
Collaborative Planning
Instead of the planners working in silos, it is advised to get your teams together and take reliable commitments for the work that they will be performing. Leadership is essential here to drive teams towards taking responsibility by asking them about their work plan and make-ready needs to ensure the work is good for production.
Constraint Mapping
Constraints are issues that disrupt the flow of work. It is important to review the issues before starting any task, making sure that the prerequisites are met to minimise unexpected variances.
In case issues are encountered during the job, the right teams must be notified instantly so the teams can focus on resolution, rather than getting the information across multiple hoops.
Visualising Milestones
Making the construction schedule easier to visualise for the site teams can immensely improve communication during collaborative planning. Allowing the teams to visualise their work is really important to ensure the flow can be clearly defined while mapping the potential constraints that could hinder the execution of the work.
With handovers being highlighted, the teams get an opportunity to voice their opinion and concerns so clarity on the workflow can be obtained before actually hitting the site and firefighting.
The Visi-Lean Workflow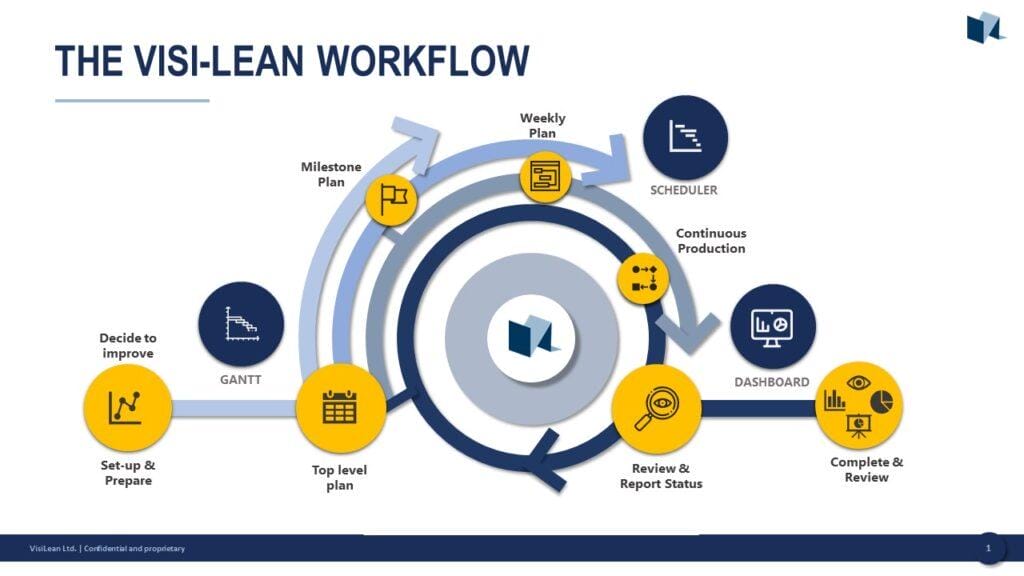 The Last planner system implementation in construction projects with VisiLean – Once the contractual timeline and Milestones are defined, the next step is to make sure these targets are broken down into workable Phase Plans. With the help of the site teams and collaborative planning sessions, clear lookaheads can be defined by taking soft commitments from the teams on the work flow. This is where visual plans and clear Task cards come into play.
The setup is quite simple; get your teams together, review the current progress and accordingly adjust the look-ahead plan by providing reliable commitments. As the project progresses, get your site teams to plan out the weekly tasks with more details. Collaborative plans are made by breaking the plan into phases, and then into micro-detailed weekly plans, thus paving the way for continuous improvements based on critical feedback from the site. With transparency enabling clear communication and hence, clarity of work, the team can truly focus on achieving the targets defined and helping deliver the project on time.

Begin your Lean construction journey with VisiLean, a cloud-based construction management software powered by Lean BIM integration.
Check out the groundbreaking features to digitise your Last planner scheduling at – https://visilean.com/features/
Start your 30 days Fully Featured Free trial today with VisiLean – https://visilean.com/demo-page/

Want to know more about us? Head to – https://youtu.be/vALoybf0zpM